The Connecticut Assisted Living Association would like to recognize one of our outstanding members, Alison Watrous. Alison currently serves as the Resident Care Director and Certified Dementia Practitioner at Elmbrook Village at Bozrah.
Alison has been working in the health care industry for over 35 year, starting as a nursing assistant while working her way to becoming a RN. She has worked in longterm care, as a DNS in skilled nursing facilities, and is a certified infection control nurse, wound nurse, and dementia nurse. Alison is also a certified trauma nurse, working for 14 years in the emergency room.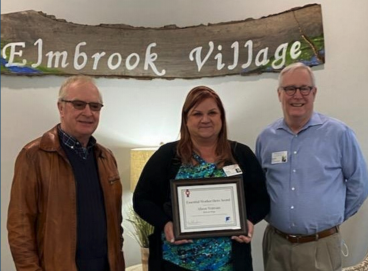 We wanted to recognize Alison because she recently received the 2020 Essential Worker Heroes Award given by the Chamber of Commerce of Eastern, Connecticut. Alison created procedures to rapidly emerging scientific developments that kept residents and staff safe with no deaths or outbreaks related to COVID-19. Alison put in countless hours at work and at home to stay on top of all research that was coming out to ensure the safety of her residents. There's no doubt that all are safer with Alison around and we're excited to celebrate her as a proud CALA member.