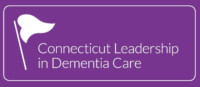 CALA and ISLE are pleased to partner with The Alzheimer's Association CT Chapter forming Connecticut Leadership in Dementia Care (CLDC). EXCELL is a program developed by CLDC to enhance the quality of services provided to residents of Assisted Living communities and other settings and to elevate best practices in Dementia Care.
The goal of the EXCELL/Purple Flag for Dementia CareTM program is to achieve a higher quality of life for persons with dementia and shall be accomplished through enhanced staff education, demonstration of a commitment to best practices, and self-attestation to statements of quality as recommended by EXCELL.
EXCELL anticipates accepting the first applications for participation with the Purple Flag for Dementia CareTM program in the Fall of 2018.
For more information – www.caladementiacare.com or cpcarter@ctassistedliving.com